Create
Invisua Lighting believes that it should not be necessary to hire a professional to update your lighting scene to the desired atmosphere or to showcase your newest products in their best way. For that, Invisua Lighting has developed the Invisua Create web-app. This web based interface allows you to literally create an exciting light scene in a few minutes!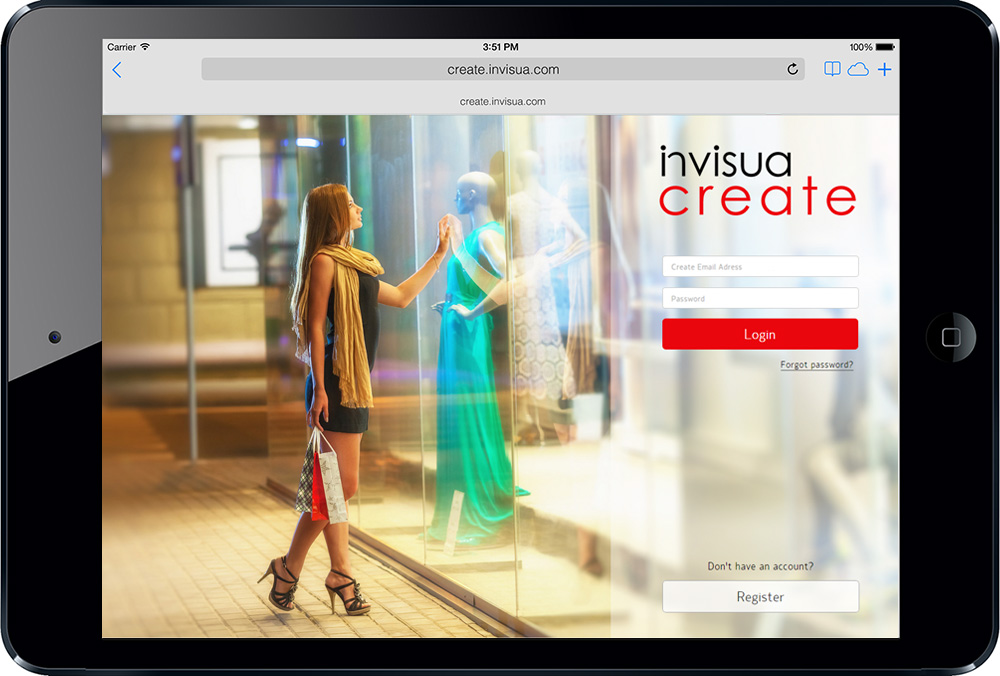 The Benefits
•    Intuitive light scene creation, both static and dynamic
•    Easy and fast on-site light scene design on your tablet
•    Free use of pre-defined light scenes
•    Sharing of your best light scenes with friends
•    Step by step configuration of the lighting system
Lighting scene creation
The first time you use the Invisua Create web-app, the web-app tutorial will step-by-step guide you through the process of designing your first light scene. This will only take a few minutes and then you are ready to go!
What makes the Invisua system special is that you cannot only create different tones of white light, but can in fact create any color.
Not only static lighting scenes can be created easily, also dynamic lighting scenes are designed in a few minutes. Dynamic lighting can be extremely beneficial for those looking for extra attention for their space or products on display.
Lighting design was never this easy!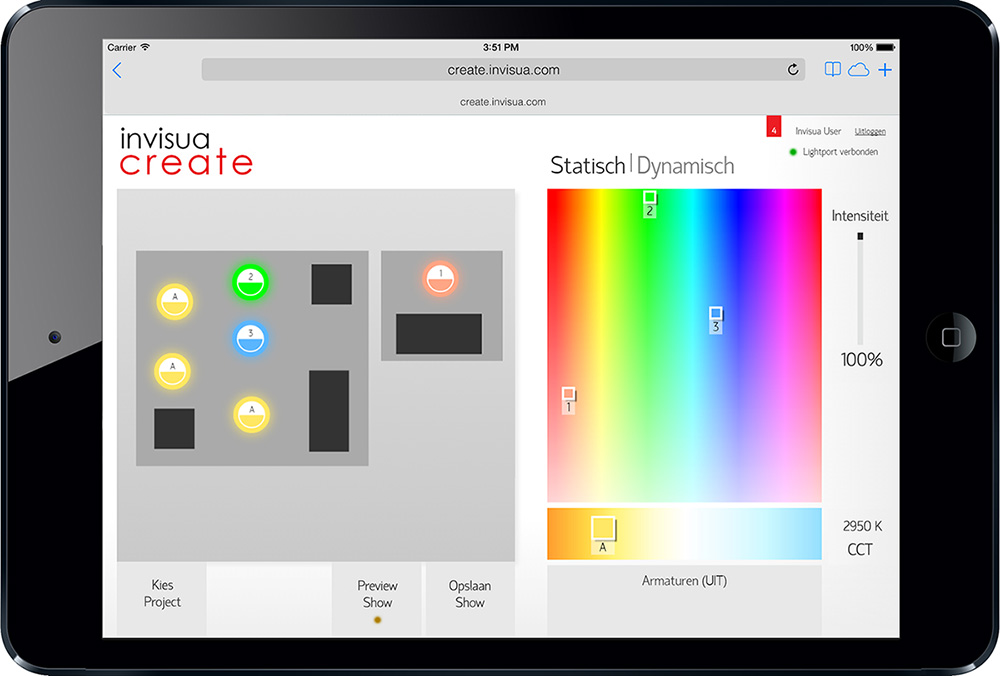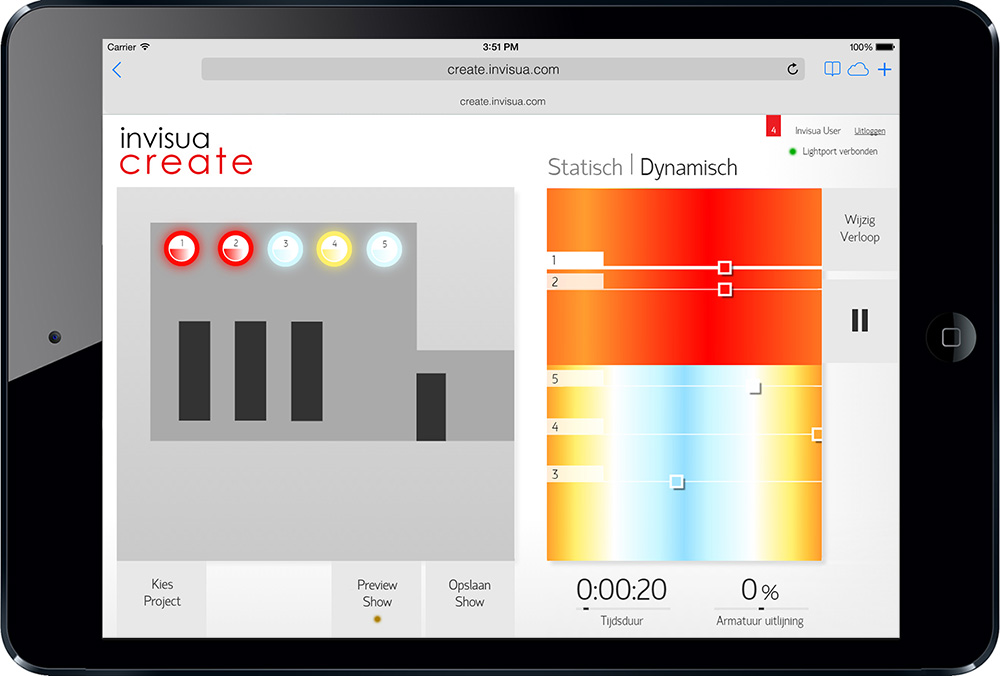 Lighting scene selection
The created lighting scenes can be easily activated with a touch of a finger, from any device. Just go to my.invisua.com and you will be automatically redirected to your Lightport, and access the stored lighting scenes. Just touch the one you wish to activate and enjoy the lighting scene you just created!
With the new color picker tool it is possible to directly control every single fixture and set it to any color of choice, whether it is a white tone, or a saturated color. In the central area of the color picker the white tones, which are exactly on the blackbody locus (BBL), can be chosen. By moving up or down, more saturated colors can be selected.
Next to that, the fixtures can be individually dimmed to 0,1% and can be turned off and on with the switch on top of the screen.
Week scheduler
To make the use of dynamic lighting even easier, the Invisua Create web-app was recently extended with the Week Scheduler page. Just drag and drop your lighting scenes to a specific day of the week and adjust the start and end time. Copy this day schedule easily to other days of the week, and after hitting the save button, your lighting installation will automatically activate the right lighting scene at the right time!
Using dynamic lighting was never this easy!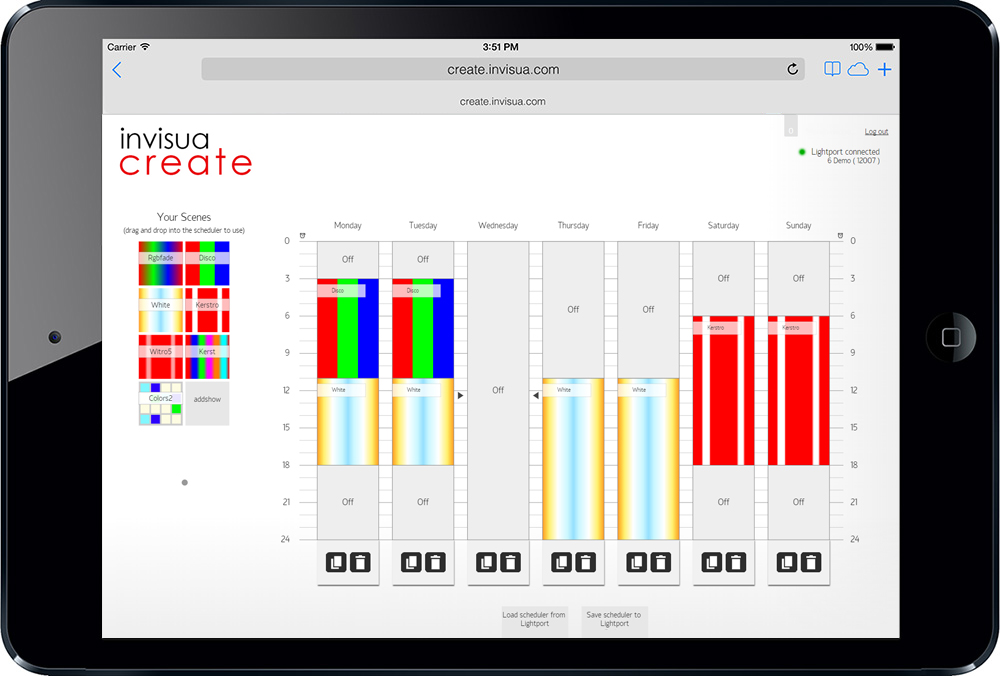 The Masterspot 2 Track is the latest product from Invisua Lighting. This completely new designed track fixture holds all the benefits of the original Masterspot SR, but also brings an even higher lumen output (4000lm) and further improved light quality (CRI>95).
The Invisua Masterspot is a high-power, color tunable spotlighting fixture for the professional lighting market. With its high lumen output, exchangeable reflectors and superb light quality, the Masterspot can turn every retail or hospitality space into a real visual experience.
The Invisua Lightport is the heart of the Invisua lighting system. It enables full control of the Invisua Masterspot fixtures with your smartphone, tablet or pc. It is connected to your local network and connects wirelessly to the Invisua Masterspot fixtures.