SELFRIDGES BIGGEST CREATIVE CAMPAIGN TO CELEBRATE SHAKESPEARE'S 400TH ANNIVERSARY
JULY 12, 2016
Invisua fixtures illuminate the shop window scenes
Selfridges is launching the biggest creative campaign yet to mark the 400th anniversary of Shakespeare's death. The project is called "Shakespeare Refashioned". It includes by what it says is a world first: the London department store is turning part of its shop into a theatre. Furthermore the project contains the launch of a series of limited-edition products, a photography collaboration with Mary McCartney, a series of collaborations with designers, musicians and drama groups and the store's "most ambitious window scheme to date. "Shakespeare Refashioned" launches on July 4 and will run until mid-October.
Rodarte, Romeo & Juliet – "So smile the heavens upon this holy act."
Most ambitious window scheme to date
Over 110,000 people eyeball the Oxford Street window display of Selfridges' London flagship store every day. Since 2011 Selfridges used their window as a creative talent platform. For the Shakespeare Refashioned they asked fashion designers like Dries van Noten and Simone Rocha to decorate the shops windows with scenes inspired by the bard.
The first phase, or Act I, of the window campaign will feature garments inspired by some of the playwright's most famous comedies and romances, including "A Midsummer Night's Dream"; "Romeo and Juliet"; and "Much Ado About Nothing" while for the second phase, or Act II, clothing by designers such as Rick Owens, Givenchy and Gareth Pugh will be featured, inspired by Shakespearean tragedies.
Designers including Christopher Kane, Alexander McQueen, Maison Margiela, Craig Green, Rick Owens and Simone Rocha, among others, have offered a mixture of archive, one-off and couture pieces capturing the spirit of Shakespeare's work, to dress the store's Oxford Street windows.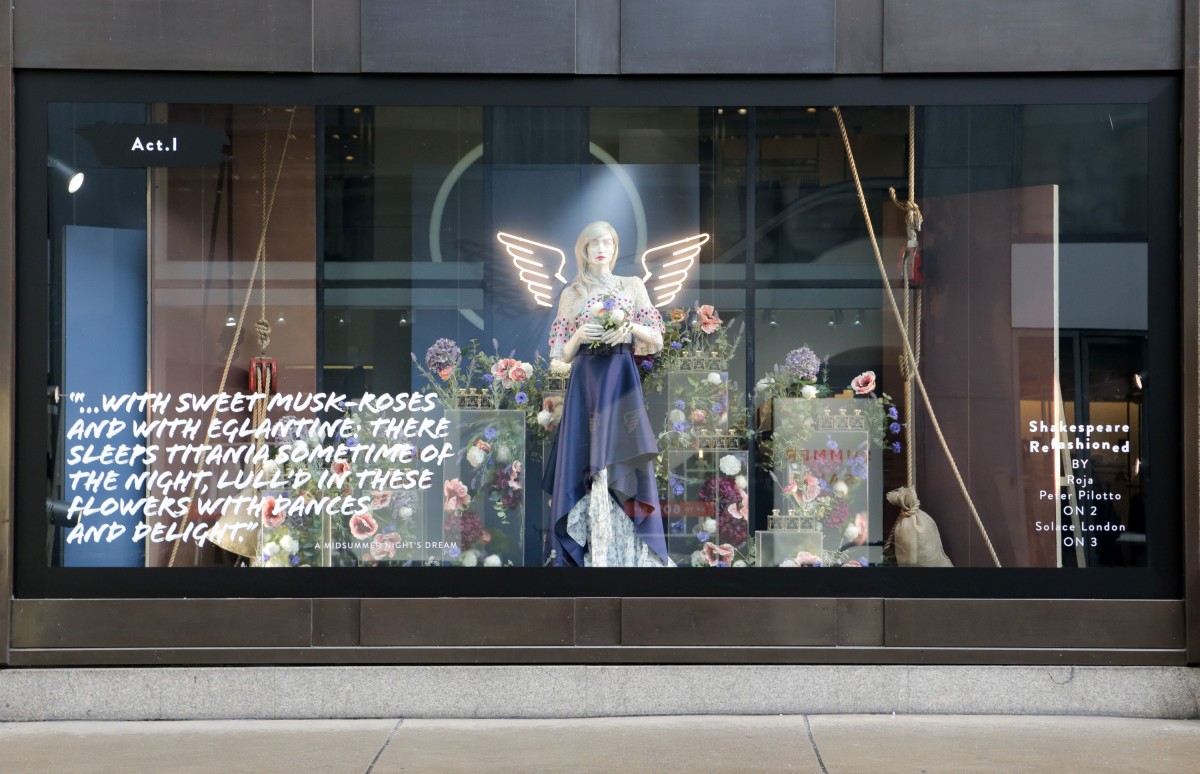 A Midsummer Night's Dream (Photo: Matt Writtle)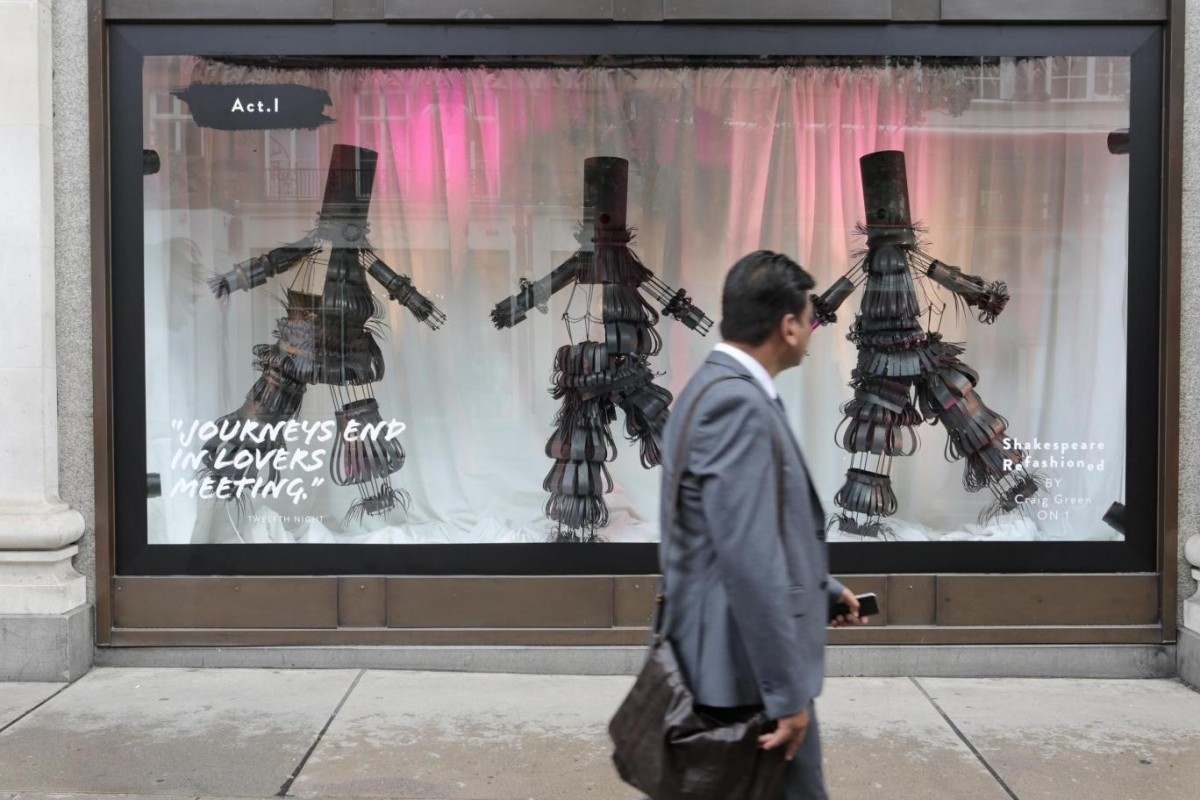 Craig Green – "Journeys end in lovers meeting."
Christopher Kane, Romeo & Juliet – "But soft! What light through yonder window breaks?"
Shop window lighting brings window displays to life
Selfridges visual merchandise team and the fashion designers used the wirelessly controlled Invisua Masterspot 2 track fixtures to illuminate the scenes. In 2015 Selfridges starting to illuminate their "Journey to the Stars"  themed Christmas windows with the Invisua Masterspot 2 Track.
"The magnificent lighting opportunities afforded by the Invisua Masterspot fixtures have really brought our Christmas window displays to life", according to James Barnett, Selfridges Production Manager Windows and Creative. Since then, the Invisua dynamic LED lighting is being used in all of their windows.
The Masterspot 2 spotlights are ideally suited to this project due to their ability to produce high luminous intensity of 35,000 candelas (3200+ lumens) with outstanding color rendering (CRI = 95, R9>90) and an adjustable beam angle of 12-24°. The fixtures are capable of producing virtually every color, from all shades of white light along the blackbody locus to the most saturated RGB colors. Using between four and eight spotlights per window, some Masterspot 2 spotlights are dedicated to tunable white light while others provide colored, dynamic light as required by the light show.
A series of limited-edition products
The designers also created a series of exclusive products that will be sold in-store. These include a limited-edition floral scarf by Erdem, a capsule handbag collection by Dries, and a Hamlet sweatshirt, shorts and scarf by J.W. Anderson.
Selfridges In store theatre play  Much Ado About Nothing 
The London department store launched a 100-seat theatre that allow customers to watch a Shakespeare production being rehearsed and performed. Called the Refashioned Theatre, the venue will have a traverse stage, a box office, a designer royal box and a bespoke lighting rig from White Light.
Selfridges has teamed up with theatre company the Faction, which will present the play 'Much Ado About Nothing' in the Oxford Street store. The theatre company will offer audiences the chance to watch rehearsals, which Selfridges compared to the experience shoppers get while looking at its own window displays.
Rehearsals will run in the space from July 18 to August 22 and the play Much Ado About Nothing runs at the Refashioned Theatre in Selfridges from August 23 to September 24.
 Customers workshops and masterclasses to teach stagecraft
Selfridges is also inviting students from the Royal Academy of Dramatic Art to take over the 100-seat theatre for two weeks and teach customers stagecraft, including how to deal with auditions and an introduction to stage combat and dance. RADA will precede offering customers workshops and masterclasses with a two-week residency started July 4.
"Shakespeare is part of the fabric of our creative world and of contemporary society. The words spoken, the images evoked, the dreams realized are of our time and his", said Linda Hewson, creative director at Selfridges. "The creatives brought together in celebration of Shakespeare's life and works will tell stories we imagine the Bard would be proud of."