Masterspot Semi Recessed
The Invisua Masterspot is a high-power, color tunable spotlighting fixture for the professional lighting market. With its high lumen output, exchangeable reflectors and superb light quality, the Masterspot can turn every retail or hospitality space into a real visual experience.
Masterspot features
The following unique features characterize the Invisua Masterspot fixture
Delivers high quality white light as well as saturated colors
Tunable white light 2.500K – 10.000K
Most powerful (3000 lumen) color tunable spotlight fixture in the market
Perfectly mixed light creating sharp and clean shadows
Smooth and deep dimming to 0,1%
Easy installation without any control wires due to RF control
Intuitive lighting scene selection via smartphone, iPad, DMX or PC.
Optical technology
The Invisua Masterspot fixture is equipped with a patent-pending optical mixing system. This optical mixing system makes use of the principle of highly effective internal reflection to mix the different colored light from the RGBW LEDs. This is done without optically enlarging the light source. In this way, a very compact reflector of only 110mm in diameter can create a powerful narrow (12°) or medium (24°) beam, without any glare!
Benefits of the invisua optical technology:
•    Perfectly uniform beam
•    No color shadows
•    Low glare, narrow beam (12/24°)
•    Compact exchangeable reflector (110mm)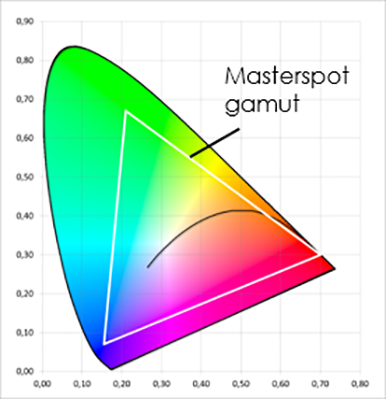 Color control
To ensure perfect color consistency between fixtures at all circumstances, the Invisua Masterspot fixtures are 100% calibrated at the Invisua production facility. Combined with a real time temperature dependent color management system, perfect color consistency from fixture to fixture is guaranteed.
Other Masterspot Fixtures
The Masterspot 2 Track is the latest product from Invisua Lighting. This completely new designed track fixture holds all the benefits of the original Masterspot SR, but also brings an even higher lumen output (4000lm) and further improved light quality (CRI>95).
The Invisua Lightport is the heart of the Invisua Lighting system. It enables full control of the Invisua Masterspot fixtures with your smartphone, tablet or pc. It is connected to your local network and connects wirelessly to the Invisua Masterspot fixtures.
The Invisua Create web-app is the amazingly simple tool to manage, design and share your LED lighting scenes with just a touch of a finger. Drag and drop your favorite white tones or colors to create the exact light setting your application needs. Tunable white LED light has never been this easy and fun!